Citroen My Ami Buggy EV launched, Limited Edition Version
Citroen My Ami Buggy EV: The new electric vehicle was unveiled by the French-based company Citroen and is a simple buggy. It has been dubbed the "My Ami Buggy" and boasts a compact size and robust design. We will cover every detail about this incredible electric vehicle in this article.
Buy Now: Flipkart | boAt Headphones | Adidas | Axis Bank Flipkart Credit Card
Citroen My Ami Buggy EV specifications
Fuel Type: Electric
Battery Capacity: 5.4 kWh
Range: 74kms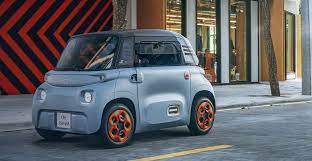 The Ami electric car serves as the foundation for this new electric vehicle. It has a pretty simple design that makes it simple for anyone to use. The khaki and black colouring combination of this buggy lends it a rugged image. It was developed as a robust electric vehicle. My Amy Buggy's motor has an 8-horsepower output. It has a 5.4 kWh battery that enables a 45 kph top speed. This electric car can go up to 74 km on a single charge in terms of mileage travelled.
Design specifics :Citroen My Ami Buggy EV
The lack of a window or door is a distinctive feature. It is composed of waterproof material and has a plastic cover. The company's open-air architecture gives the space a feeling of openness once people are seated. The company launched the My Ami Buggy concept in 2021. People reacted to it very favorably. The business then began assembling its constrained quantities.
Price Details :Citroen My Ami Buggy EV
The starting price for My Ami Buggy is $13029, or around Rs. 10.78 lakh. Only 1000 of this limited edition car will be made, according to the company.
YOU MIGHT ALSO LIKE
You can now write for mtimes.co.in and be a part of the community. Share your stories and opinions with us here.
Trending Searches Today |