Odisha Train Accident: PM lauds Odisha government, local administration and local people
Balasore: Prime Minister Shri Narendra Modi visited Odisha and reviewed the rescue and relief efforts underway after the tragic train accident in Balasore. Prime Minister visited the railway accident site and the hospital where the injured are undertaking treatment.
"People from various states who were travelling in the trains have been impacted by this monumental tragedy. While talking about the tragic loss of lives, Prime Minister said that no stone will be left unturned to provide all possible medical help to those injured. He said that the government stands with the bereaved family members who have lost their loved ones" Prime Minister said.
Instructions have been given to ensure proper and speedy investigation of the tragedy, and to take prompt and stringent action against those found guilty. He commended the efforts of the Odisha government, local administration and of the local people, especially youth, who worked through the night to assist ongoing efforts. He also lauded the local citizens who turned up in large numbers for blood donation, to help those injured", Prime Minister said.
"Railways is working to provide rescue and relief, as well as to ensure quick restoration of rail tracks. Interacting with the local authorities, personnel from the disaster relief forces and railways officials, Prime Minister emphasised on 'whole of government' approach to mitigate the tragedy" He added.
Earlier in the day, the Prime Minister presided over a meeting to assess the situation in the aftermath of the Odisha train derailment. The review meeting examined aspects of rescue, relief, and medical care for those affected.
The next of kin of each dead in the Odisha train disaster would receive an ex-gratia of Rs. 2 lakh from PMNRF. The injured would be compensated with Rs. 50,000.
275 Dead, 1000 Injured in Train Accident In Odisha
At least 275 people were killed and 1000 were huge injured in a horrific three train accident In Odisha. The Bengaluru-Howrah Superfast Express, the Shalimar-Chennai Central Coromandel Express, and a cargo train were all involved in the disaster.
In the aftermath of the horrific triple train collision, Odisha Chief Minister Naveen Patnaik directed a one-day state mourning.
Odisha's government has established a helpline at 06782-262286. 033-26382217 (Howrah), 8972073925 (Kharagpur), 8249591559 (Balasore), and 044-25330952 (Chennai) are the railway helplines.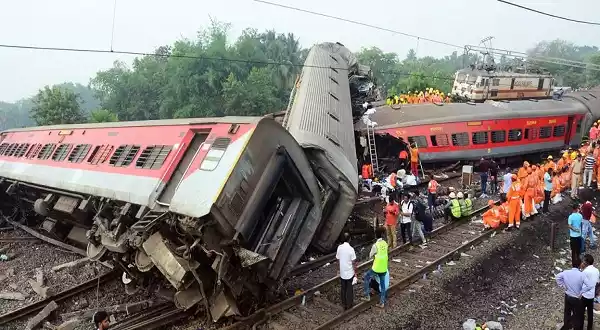 Southern Railway has established a 24-hour helpline and control office in Chennai. According to a press statement, commuters and family members might call the helpline and control office at 044-25330952, 044-25330953, and 044-25354771.